Cheng Hsin Holland Camp 2024
Martial Arts & Consciousness
16 – 30 August | 2024 in Nijmegen (NL)
Peter Ralston has offered yearly workshops at the Cheng Hsin Holland Camp for over three decades and deeply inspired thousands of people in the martial and consciousness communities around Europe. In 2024 we welcome his top student Brendan Lea from the USA to facilitate the Cheng Hsin Holland Camp. You are warmly invited to join in!
Brendan has steadily studied with and has virtually lived with Peter Ralston for the last 16 years. He has done every apprenticeship program (going on eight), and lives at the Center and still studies. He has been training in facilitation and assisting Ralston as a facilitator in his consciousness workshops for years. He also runs his own workshops in cities in the US and other countries.
His commitment to study and training has created a great awareness and understanding of the dynamics of mind and body as they apply to effective interaction. Through years of intense contemplation he has also developed a deep understanding of self, life, and reality. This allows him to powerfully facilitate others in having the breakthroughs and insights necessary to expand their own consciousness and create new skills.
Art of Effortless Power
16 - 23 August 2024
weekend or week workshop
In this workshop you will deeply explore the principles that found body design and function, effortless power and skilful physical interaction. All teachings will be based on understanding and training principles rather than following dogma and routines.
The Art of Effortless Power is a dynamic art with many techniques, footwork, and lots of internal work on relaxation, feeling awareness, balance and freeing up ineffective mental patterns. You will be questioning assumptions, overcoming beliefs and transforming how to use your body. It is a joyful learning experience.
The workshop has a highly intensive and structured format. You will be challenged to change your own experience towards that of being effective whilst remaining totally relaxed and calm. We will be working from the ground up. With props, techniques, games and exercises which you can take into your own art to help you deepen your work. Note that the evenings of Tai Chi Chuan and Body Being are included in this workshop.
Tai Chi Chuan & Body Being
16 - 22 August 2024
six evening workshop
This six evening workshop will give you an experiential investigations into the nature and principles of the body and how it works most effortlessly and effectively. You will learn to become more relaxed, open, grounded, centred and balanced. You will increase awareness and sensitivity to your own body and learn how to best use it. During this workshop you will also learn the Cheng Hsin Tai Chi mini set or 64 Tai Chi  Chuan set.
Boxing
23-24 August 2024
one day workshop
Cheng Hsin boxing arts are unmatched in their depth of intelligence and level of understanding about the nature of effective interaction. You will learn to develop effortless striking, invincible defences and strategic understanding bs rarely visited domains of human mind and perception, not to mention physics and physiology. This workshop starts on Friday evening.
Conscious Living Workshop
24-30 August 2024
six day workshop
Life involves interacting with and managing our environment, most of which involves other people. Yet we often find it a challenge to do so effectively. Sometimes we don't feel heard, or become reactive, and encounter many other kinds of challenges. We get caught up in all sorts of mental, emotional, and sometimes physical difficulties. With such forces acting upon us, we can get derailed from our purpose, or desired purpose, for our lives. In addition, it can be hard to find our centers and remain grounded in and true to the real being that we are
In the Conscious Living Workshop you will take on these complications, understand their root, and go beyond them. You will learn about yourself, look into the hidden or overlooked source of many of your emotions, develop much greater communication skills, and study the nature of relationship.
You will also clearly see what obstacles stand in your way of realizing an empowering purpose for your life, and delve into the real you that is already beyond mind and perception and life's complications.
Join us for the Conscious Living Workshop coming this summer. Why live with less conscious-awareness when you can have more?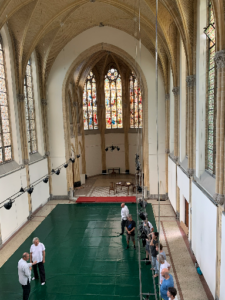 Our venue is Groepsaccommodatie De Elegast beautifully located on a woody hill near Nijmegen This former boarding school now offers one person cubicle bedrooms with running water. Showers and toilets are on the corridors. Our hosts Karin and Paul will serve you excellent vegetarian meals.
The Conscious Living Workshop only offers full lodging (€75 /day). The first week of martial workshops has several options. The first is full lodging including meals and mat fee (€75 /day). The second is only meals and mat fee (€55 /day). And the third is only a mat fee (€20 /day).
More information:  www.elegast-groepsaccommodatie.nl
---
Sign up by sending in the registration form and also make sure to transfer the required non-refundable workshop deposit.
If you sign up and make your deposit before 15 February 2024 you receive a considerable Early Bird discount!
Remaining payments for accommodation and workshops must be transferred in full by 15 June 2024.
If you sign up after 15 June, a deposit is not required. Instead directly make full payments for accommodation and workshop(s) by transfer.
After signing up you will receive a preparation letter with general information on lodging, route description, workshop conditions and other requirements.
Cancelling any of the workshops before 15 June 2024 means that your deposit will not be refunded.
Cancelling any of the workshops after 15 June 2024 means that 40% of the workshop costs will not be refunded.
Cancelling any of the workshops within two weeks prior to the start of the workshop means the whole amount (workshop and accommodation costs) will not be refunded.
Make your payments to:
Effortless Power training & coaching
IBAN NL85 TRIO 0198369425
BIC: TRIO NL2U
Mentioning: CH Holland Camp 2024
In case you have any questions regarding these terms, registration or the Cheng Hsin Holland Camp in general please contact:
Rob van Ham
Grotestraat 40
6511 VD Nijmegen
the Netherlands
0031 6 2900 8785
info@chenghsin.nl
Cheng Hsin Nijmegen